Mission:
To plan, organize, coordinate and provide logistics support to II and III level units and commands of the Army.
Tasks:
To plan, organize, coordinate and provide logistics support when it is responsible for:
– Supply;
– Maintenance and repair;
– Movement and transport;
– Medical and veterinary support;
– Infrastructure and
– Services.
To manage all class material supplies in order to meet the needs off the commands and units of the Army;
To keep and maintain material reserves of ARM according to previously determined criteria;
To reinforce the logistics scope of ARM units when conducting training, being in the field or in combat and participating in peacekeeping missions;
To coordinate logistics support of allied forces which transit or stay on the territory of the Republic;
To give logistics support to government authorities, local government authorities, different organizations, associations and etc. (under specific conditions and upon specific orders  and instructions).
Colonel Muharem Muharemi
Colonel Muharem Muharemi was born on 9th October, 1976 in Tetovo. After finishing his high school education in "Kiril Pejchinovic" High School in Tetovo, in the period from 1991 to 1995, he continued his education at the Military Academy "General Mihailo Apostolski" in Skopje in the period from 1995 to 1999, as part of the first generation of officers who received their education in our country, and then he continued with postgraduate studies at the NATO Defense College in Rome, Italy in 2013.
He began his military career as a Commander of Popova Shapka observation post in 1999. During his career he has performed several commanding, staff duties at a battalion/brigade level, as well as a Commander duty. He actively uses English. He is married and father of one child.
He has completed several courses in the area of staff duties in international staffs, assessment of declared units, planning of international exercises and more.
These are some of the completed courses:
MPRI, Kumanovo, 1999;
English Language Course, Skopje, 2004;
English Language Course, Canada, 2005;
Weapons Control Course, Ankara, R. Turkey, 2008;
Evaluators Course, Pepelishte, 2008;
MF and Media Relations Course, Skopje, 10.2007;
Basic LOGREP Course, Skopje, 14.-18.09.2009;
UN Military Observers Course, Ankara, R. Turkey, 2009;
Counter-terrorism Course, Kabul, R. Afghanistan, 2009;
NATO Planning and Operations Course, Stip, 2011;
Battalion Staff Duties Course, Skopje, 2012;
Media Training Course, Skopje, 2014.
He has participated in several international exercises abroad, such as the exercises "Rapid Trident" in Ukraine in 2008, the international exercise "NOBLE Light" in Istanbul, R. Turkey in 2011, and the exercise "VIKING" in Sweden in 2014.
In his career he has two international missions in Afghanistan as Staff Officer – HQ ISAF in Kabul in the period from 2009 to 2010 and Contingent Commander – HQ ISAF in Kabul in 2012.
He has been commended and awarded on several occasions and among the more important ones are the following:
Certificate of Commendation by 2.IBr Commander;
Silver Badge for long-term service in the Army;
NATO medal for participation in the ISAF Mission in 2010 and 2012;
Certificate of Commendation by the BSG Commander in Kabul, R. Afghanistan in 2012;
Monetary award by the CGS in 2019.
Previous Duties:
Popova Shapka Observation Post Commander, 1999;
Observation Post Jazhince Commander, 2000;
Mechanized Platoon Commander, Tetovo, 2003;
Company Commander, Tetovo, 2004-2006;
Chief of Staff and Deputy Commander of Mechanized Infantry Battalion, 2006-2013;
3rd Logistics Battalion Commander, Skopje, 2013-2015;
Chief of Staff in LSBr, 2015-2017;
LSBr Deputy Commander, 2017-02.2019;
LSBr Commander, 2019-02.2020;
Logistic Base Commander, 02.2020.
Promotions:
Second Lieutenant 1999-2000;
Lieutenant 2000-2003;
Captain 2003-2009;
Major 2009-2013;
Lieutenant Colonel 2013-2017;
Colonel 2017.
Lieutenant Colonel Kiro Stojanov
Lieutenant Colonel Kiro Stojanov was born on April 4, 1969 in Strumica. He graduated high school in "Bratstvo-Jedinstvo" High School in Belgrade. His education was continued at the Military Academy of the Ground Forces in Belgrade and graduated as a Second Lieutenant.
He started his military career as an officer commanding of a quartermaster platoon in the 4th Mechanized Infantry Brigade. In his career he has done several officer commanding, staff and commanding officer's duties in a battalion/brigade, and from February 20, 2019 holds the post of a Deputy Commander of the Logistics Brigade.
He has completed several seminars and courses in the area of logistics, such as: Seminar on operations of a Material Management Centre and Centre for Movement Control; Seminar on Doctrine of Logistics Systems; Course on Management with the Materials in the Defense in Monterey, USA. Participation in an activity: "Duty in the background in a Battalion for brigade support during an annual exercise of a reserve brigade in Vermont"; NATO logistics orientation course, Ankara, Turkey; Seminar on Legal Aspects of the Counter Terrorism Combat – preparation for a peacekeeping mission in Afghanistan; Seminar on Operative Logistics Planning in Skopje, NATO Course for support of the host country; Course on NATO Logistics; Course on NATO Operative Planning of Movement and Logistics "Multicriteria decision making".
Also, he has participated in several military exercises at home and abroad such as: Staff exercise "Vodno 03"; "Macedonian Flash 11" exercise; "Capable logistician – 15" logistics exercises in Hungary and "LOGDEV 19" in Georgia.
Speaks English Language with STANAG 3, 2+, 2+, 2+.
Married, father of one.
Previous duties:
1992-1996, Officer Commanding of a quartermaster platoon /4th MIBR;
1996-1998, Officer  for safety of the Supreme Commanding Officer;
1998-2000, Section Commander in a Platoon for Security of the Supreme Commander;
2000-2001, Officer Commanding of a quartermaster storage in a Logistics Base;
2001-2006, Management Officer with class 2 and 4 in the Logistics Command;
2006-2007, Chief of Staff and Deputy Commander of Logistics Battalion – CLS
2007-2012, Commander of Logistics Battalion in CLS
2012-2014, Chief of S-5/9 with the Logistics Support Brigade
2014-2015, Chief of Infrastructure Section and Occupational safety and health / J-4 JOC;
2015-2016, Supply Officer with class 1/J-4/GS of ARM;
2016-2017, Chief of Quartermasters Service in J-4/GS of ARM;
2017-2019, Chief of Staff of Logistics Support Brigade.
Promotions:
Second Lieutenant 1991-1992;
Lieutenant 1992-1996;
Captain 1996-2001;
Captain I class 2001-2003;
Major 2003-2007;
Lieutenant Colonel 2007.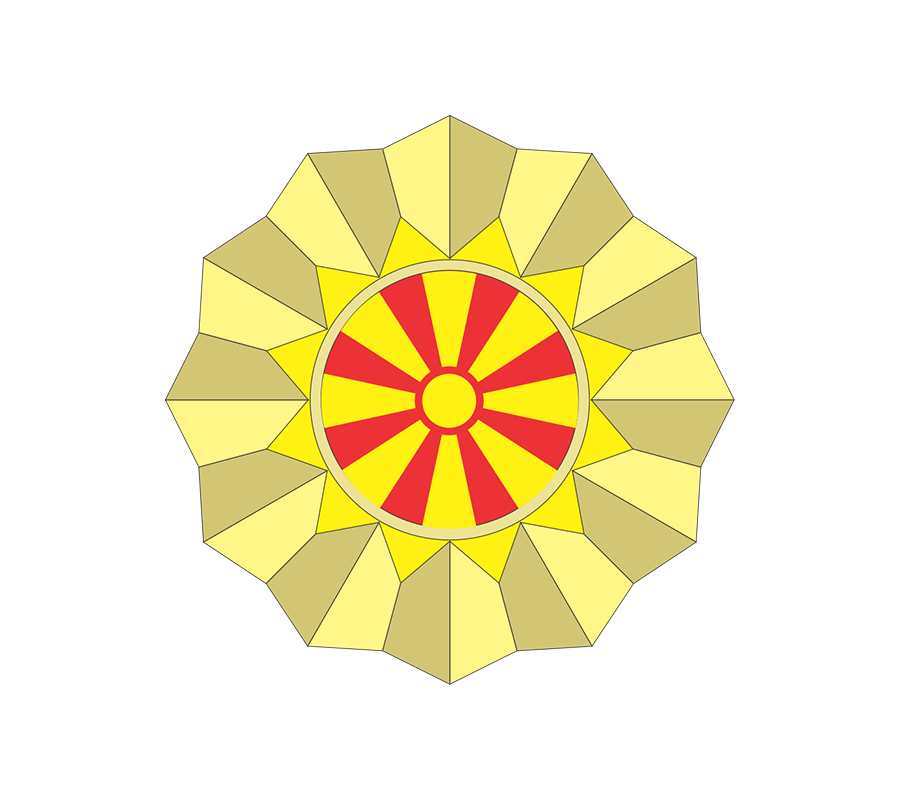 Major ZORAN VASILESKI
Major Zoran Vasileski was born in 1974 in Pilep. He finished his secondary education in Prilep, graduated from the Faculty of Economy in 1997 in Prilep and completed his postgraduate studies in 2015.  In the period between 1999 and 2000 he upgraded his military education at the Military Academy "General Mihajlo Apostolski"- Skopje. He is a PhD candidate at the Institute for Security, Defense and Peace at the Faculty of Philosophy in Skopje since 2019.
He started his military career as a Platoon Commander and at the same time as a Training Company Deputy Commander in Gjorce Petrov, Skopje. During his career he has completed various staff duties at Battalion level and in 2018 started working as a Public Relations Officer at the Logistics Support Battalion.
He has attended many courses related to public relations, SIMIS courses and numerous language courses. He has participated in various exercises in the country including "Macedonian Flash" 5, 6, 7, 8 and 14, "Decisive Strike" and" REGEX".
He is fluent in English.
Promotions:
Lieutenant 2000-2004;
Captain 2004-2016;
Major 2016
Foreign languages:
English – Advanced level;
Italian – A Level 2;
French – DELF A Level 2.
Contact:
Mobile phone: +38970373-522
Home number: +38902/32826-08
Logistics Support Brigade, 2012;
Logistics Support Command, 2005;
Logistics Command, 2001;
Land Forces Logistics Base, 1996;
Land Forces Rear Base, 1993;
1 Rear Base, 1992.